Erich von Manstein is historically known as one of Germany's best military strategists and field commanders. He was a part of Hitler's regime and committed horrific atrocities. Some believe Hitler may have won if he would have listened to Manstein. If that is true, we should be grateful Hitler did not listen. People still reference Manstein's theory on selecting leaders, which can be explained with this chart, followed by Manstein's words.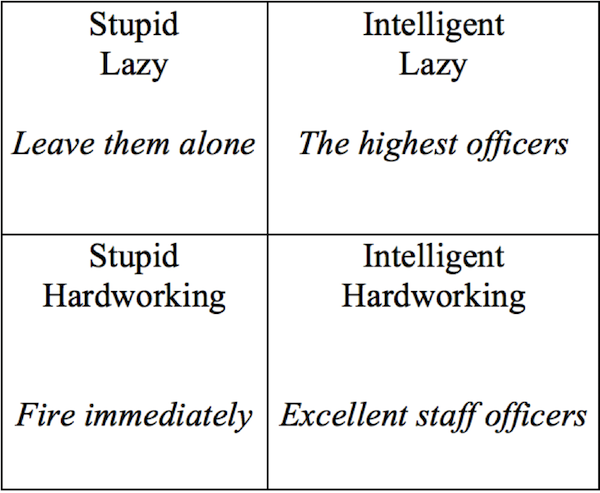 There are only four types of officer. First, there are the lazy, stupid ones. Leave them alone, they do no harm… Second, there are the hardworking, intelligent ones. They make excellent staff officers, ensuring every detail is properly considered. Third, there are the hardworking, stupid ones. These people are a menace and must be fired at once. They create irrelevant work for everybody. Finally, there are the intelligent, lazy ones. They are suited for the highest office.
~ Erich von Manstein 
Obviously Manstein's values and life were in deep contradiction to those of us who are members of God's kingdom. Our King and Commander values all people, affirms diligence and stewardship, and renounces laziness. But is there anything good that can be gleaned from Manstein? What does it mean to be a "lazy, intelligent leader," and why might this increase effectiveness?
Great leaders care about execution.
The reason Manstein believed "lazy, intelligent people" would make the best generals was that they were most likely to choose the simplest solution, the simplest strategy. And the simplest strategy is the most actionable in battle, the easiest one to execute.
Great leaders communicate clearly.
Similarly, those who select a simple strategy simultaneously choose a plan that can be clearly communicated and thus be understood and embraced. Of preachers struggling to communicate clearly, Howard Hendricks famously said, "A mist in the pulpit is a fog in the pews." If a leader struggles with clarity of direction, the leader will struggle with clarity in communication. And the people will remain confused.
Great leaders empower others.
When Manstein referred to "intelligent, lazy leaders," he was referring to people who wisely restrained from attempting to do all the work themselves. The best leaders involve others, equip them, and empower them to lead. Unlike a hardworking fool who creates extra and unnecessary actions for everyone else, an effective leader empowers others for the important and essential.
Should you be lazy? No. But should others sometimes accuse you of being lazy because you are empowering others and not doing all the work yourself? Yes. Yes. Yes.