Erich von Manstein is historically known as one of Germany's best military strategists and field commanders. He was a part of Hitler's regime and committed/allowed horrific atrocities against the Jewish people. Some believe Hitler may have won if he would have listened to Manstein. If that is true, we should be grateful Hitler did not listen.
People still reference Manstein's theory on selecting leaders, which can be explained with the following chart, followed by Manstein's words.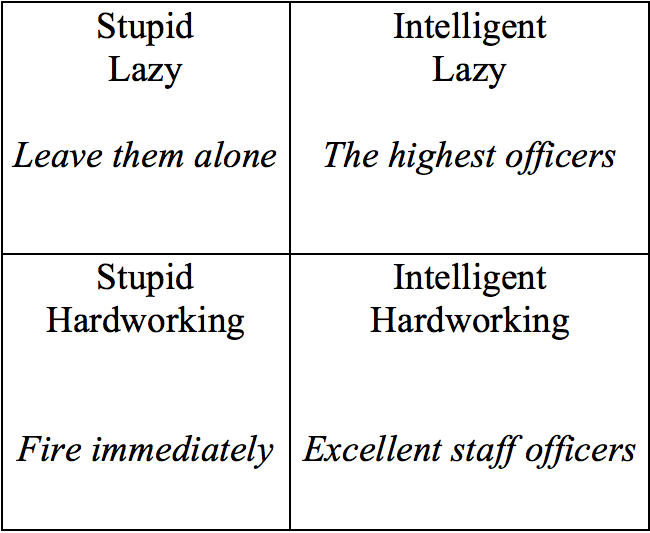 There are only four types of officer. First, there are the lazy, stupid ones. Leave them alone, they do no harm… Second, there are the hardworking, intelligent ones. They make excellent staff officers, ensuring every detail is properly considered. Third, there are the hard-working, stupid ones. These people are a menace and must be fired at once. They create irrelevant work for everybody. Finally, there are the intelligent lazy ones. They are suited for the highest office.
~ Erich von Manstein
Obviously Manstein's values and life were in deep contradiction to those of us who are members of God's kingdom. Our King and Commander values all people, affirms diligence and stewardship, and renounces laziness.
But is there anything good that can be gleaned from Manstein? What does it mean to be what he called a "lazy, intelligent leader," and why might this increase effectiveness? Three leadership thoughts emerge from his thinking:
1)    Find the simplest solution.
The reason that Manstein believed "lazy, intelligent people" would make the best generals is that they were most likely to choose the simplest solution, the simplest strategy. They chose simplicity, sometimes out of a desire not to overwork, but the simplest solution always proves to be the most actionable—the one that is easier to implement. While a Christian leader should never be lazy, we are wise to consider the simplest solution.
2)    Delegate well.
Great leaders accomplish work through others. They don't hold responsibility and authority tightly; they give it away to others so the scope of work can be broadened and the impact of the team exponentially multiplied.  
3)    Reposition mismatched team members.
Someone who is not in the correct role, someone Manstein articulated as hardworking yet incompetent, does not provide a neutral impact to the team, despite what we like to think. A mismatched team member creates a negative impact because the harder the person runs, the more work (extra conversations, picking up dropped balls, etc.) is created for everyone else.
As members of God's kingdom, we should not be lazy servants. At the same time, it is wise for leaders to seek the simplest, most actionable solution, to delegate well, and to reposition mismatched team members.