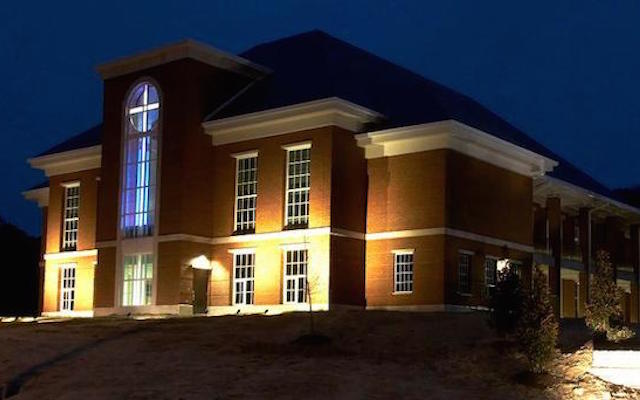 I love serving the Church in my role at LifeWay. It is a deep honor to partner with authors and church leaders, serve alongside the incredible team the Lord has graciously allowed me to lead, and work for Thom Rainer (CEO) and Brad Waggoner (Executive Vice President) who I have respected for many years. I believe the Lord has me in this role for this season, and I am as excited as ever to serve as one of the vice-presidents of LifeWay and lead the Resources Division.
Yet, God has still made me a preacher.
Just over four years ago, we moved to Nashville from Miami and, in God's providence, moved into a house down the street from Clearview Baptist Church. Almost 18 months ago, I started serving as the interim pastor at Clearview. I had no idea the Lord would give me such a love for the people. They have loved me well, encouraged my family, and it has been a joy to teach the Bible to them.  
In recent months, the Lord led the pastoral search team to discuss the possibility of me becoming the pastor while continuing in my role at LifeWay (call bi-vocational or whatever nomenclature you want). I was humbled and honored. Just as I don't deserve, at all, to be a Christian, I don't deserve, at all, the level of trust and respect the Clearview folks have shown me. God has been so very gracious to me.
Kaye and I have met with pastor search team, the church personnel team, the pastors, and other groups of leaders. After each meeting, we walked away further convinced that the Lord was pulling this all together. Discerning the Lord's will in all of this has been pretty simple for me: God made me a pastor. God moved us down the street from Clearview. And God led leaders at Clearview, people I love and respect, to invite me to be one of their pastors. I am in.   
When we first moved to the Nashville area, God gave me a great friend in Brady Cooper – the pastor of New Vision Baptist Church in Murfreesboro. Though 30 minutes from our house, Brady asked me to serve as teaching pastor at New Vision. I have really enjoyed my time there, had a blast leading a young couples small group, and have loved serving alongside their incredible staff. Brady has been very supportive and encouraging of this new opportunity – the opportunity to pastor right where we live.
Because I have "another job," the pastor search team and I agreed that I will focus on three things at Clearview: (1) Setting vision and direction (2) serving as the primary preacher/teacher and (3) pastoring the pastors. There is a strong team of leaders at Clearview. I am excited to join the team, and be one of the pastors.  
So this morning, the pastoral search team at Clearview announced that they are recommending the church ask me to be their senior pastor. Clearview will vote on this recommendation next week. Here is how they are communicating that.