I am honored to lead the Resources Division at LifeWay and serve with a team of leaders who are passionate to serve the Church in Her mission of making disciples. Each Wednesday, I share the heart behind one of the resources our team has developed and give an opportunity for you to register to win a free copy of the resource. This week's resource is Biblical Illustrator.
The following post was written by G.B. Howell, who has actually done biblical archaeology (that's a real thing) in Israel and is the editor of Biblical Illustrator.
---
Jim Duggan called me a couple of weeks ago excited about what he had heard from a guest speaker and astounded that he had never heard it before.
Jim serves as pastor of Bellevue Baptist Church in Macon, Georgia. The guest speaker was Andy Cook, the founder of Experience Israel Now.
Jim recounted his eye-opening experience for me.
"Andy showed us pictures yesterday of Caesarea Philippi, you know, where Jesus said, 'Who do men say that I am?' I have heard that story all my life. Hey, I've preached that story. But I've never known the significance of the fact that this happened in Caesarea Philippi."
Jim was on a roll.
"Caesarea Philippi, located north of the Sea of Galilee, was also known as Banias. Some called the site Panias, named for the Greek god Pan. The Banias River begins up there and serves as one of the sources of the Jordan River."
"It's in a Gentile region, away from Jerusalem and the temple."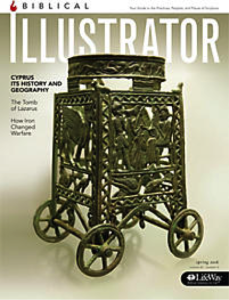 "There's a huge cliff face at Caesarea Philippi. Andy had pictures and video of all of this. And there are niches cut into the cliff, where people would put statues of various gods."
"Andy also said that Jesus and His disciples had left Jerusalem and the temple where people had to pay a tax with coins that had pictures of gods, kings, or Caesars on them. And people had to greet each other by saying, 'Caesar is lord.'
"So Jesus went to a Gentile territory, a place where pagan gods were worshiped. And in that environment it's as though He said, 'We just left a place where people say the king is a god and have come to a place where all manner of gods are worshiped. Against that backdrop, who do men say that I am? And who do you say that I am?'"
Jim was preaching now.
"And suddenly it makes sense. Of course Jesus would ask that question here! Of course He would contrast Himself with all other entities that people worship."
"Then Peter says, 'You're not them—You are the Christ. Not Caesar. Not the idols. You are the Messiah, the only Son of the LIVING God!' In a Gentile, idol-filled territory, Simon Peter proclaims Jesus to be the long-awaited Messiah! How significant is that?"
"All of a sudden the full details of the story make sense—AND they all matter. The story is so much better when you know about the place! How could I have NOT known all of this?"
When Jim finished, I said to him, "Jim, I see you've not been reading Biblical Illustrator! We had an article on this very story."
We laughed and Jim decided not to end his phone-sermon with an altar call.
Conversations like that remind me of why I'm passionate about what I do. I lead the team that develops Biblical Illustrator, a unique resource published four times a year that gives just this kind of insight into biblical culture, history, archaeology, people, and customs. We work with top-notch scholars who develop 20 or more articles for every issue to help people have a fuller understanding of the world in which the Bible was written so that they can have a more complete Bible study experience.
Biblical Illustrator can stand alone as a Bible study tool, but it is also designed to work alongside the content of three of LifeWay's curriculum lines—Bible Studies for Life, Explore the Bible, and The Gospel Project.
Today we are giving away 10 copies of the current issue of Biblical Illustrator. I hope you'll try it and have your own eye-opening Bible study experience.
---
Register to win 1 of 10 copies of the latest issue of Biblical Illustrator here or in the form below before 12:01am CT Thursday, February 18th, 2016.