I am honored to lead the Resources Division at LifeWay and serve with a team of leaders who are passionate to serve the Church in her mission of making disciples. Each Wednesday, I share the heart behind one of the resources our team has developed and give an opportunity for you to register to win a free copy of the resource. This week's resource is the Christian Standard Bible. Our Bible team helped write this post.
---
As church leaders, one of our largest responsibilities is shepherding our people in such a way that leads them to study Scripture for themselves. God's Word reveals his character and will to us, transforming our lives and leaving us to live in awe of his glory. God and his Word are faithful and true to guide us and provide for us as we follow Christ and pursue his mission around the world. As the people you lead seek to read, understand, and share God's Word, questions revolving around Bible translation may come up.
How can you answer the three key questions most have about Bible translations?
1. Why do we have many English translations?
Each translation is prepared using guiding principles for a specific purpose, whether that be to approximate a word-for-word translation of the original language (formal equivalence) or a phrase-for-phrase or thought-for-thought translation (dynamic equivalence). These guiding principles––the translation philosophy–– ultimately determine how closely the translation aligns with the original text and how it reads.
2. Why are Bible translations revised?
Many translations go through a revision process, periodically adjusting the text when new scholarship warrants or language usage changes, for example.
3. How does Bible translation happen?
In most cases, a group of Bible scholars will oversee the translation. They will return to the original languages and translate by committee according to the guiding principles they are applying and their translation goals. This is a long, highly detailed process where there are many rounds of edits and checks and balances.
So where does the Christian Standard Bible land?
Most importantly, the translators of the CSB were guided and motivated by the following verse: "These words are faithful and true" (Revelation 22:6a CSB).
Because God's Word is faithful and true, providing a translation that is highly faithful to the original text and highly readable is extremely important. This is the overarching purpose behind the publication of the Christian Standard Bible. This revision of the HCSB updates word choices to, as much as possible, land in the sweet spot between a word-for-word translation and a thought-for-thought translation, or to provide "optimal equivalence."
More than 100 Bible scholars from 17 denominations have worked together to translate the original languages into English with an optimal blend of accuracy and readability. The Translation Oversight Committee, a multi-denominational team co-chaired by Drs. Tom Schreiner and David Allen, incorporated advances in biblical scholarship and input from Bible scholars, pastors, and readers to provide a translation that is highly accurate and highly readable. In all cases, the intent of the Christian Standard Bible is to convey the original meaning of God's Word as faithfully and as clearly as possible.
Our goal is to engage more people in reading and sharing God's Word. LifeWay Christian Resources seeks to serve the church in her mission of making disciples. There is no better way to serve the church than to provide an accurate and readable translation that invites people to engage God's Word.
To learn more about the CSB, you can read it for yourself at read.csbible.com.
More details about the CSB, translation philosophy, and upcoming editions can be found at CSBible.com.
I also will be giving away 10 beautiful goatskin leather editions for pastors.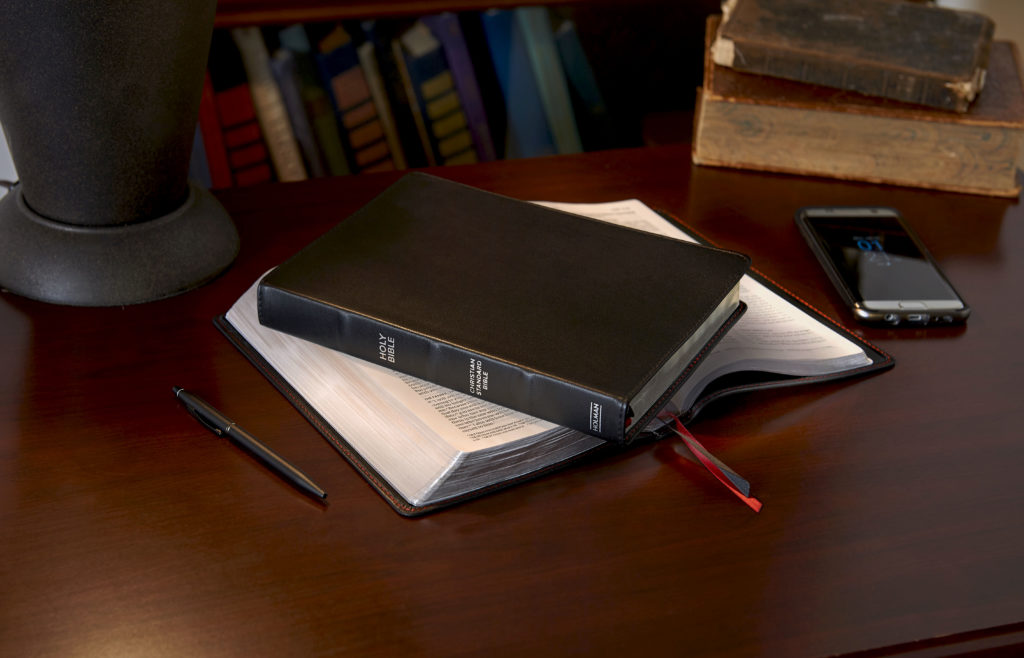 Enter here or in the form below before 11:59pm CT tonight, January 25, 2017. We will notify the winner within a week via email.