The head coach of UConn's football team attempted to declare a rivalry against University of Central Florida and named it the "Civil ConFLiCT" (notice the FL and CT are capitalized for Florida and Connecticut). The two teams play in the AAC conference, with UConn playing in the North and UCF playing in the South (thus North versus South, as in Civil War). Though a trophy was made, the rivalry game never took root. The UCF coaches were actually unaware that this was supposed to be a rivalry. The UCF cheerleaders even made fun of the attempt.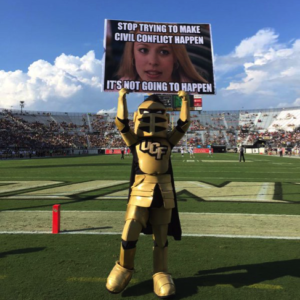 So when UCF beat UConn in the fall of 2016, they actually left the football trophy on the field. They did not even bother to pick it up. It did not matter to them. At all.
Some battles don't matter nearly as much as we make them out to matter. One of the biggest challenges in leadership is ignoring battles that don't matter. Wise leaders seek to steward as much energy as possible toward what matters most. There are many battles that don't matter, but here are three:
1. Battling to make everyone happy
If you attempt to make everyone happy, you will fail and simultaneously drive yourself insane. It is a futile attempt.
2. Battling for credit
Many have been credited with the quote: "It is amazing what you can accomplish if you do not care who gets the credit." It is an amazing quote, and I am sure whoever said it does not mind who gets the credit for saying it. It is true because so much time is wasted in battles for the credit instead of invested in battles for the mission.
3. Battling to preserve the past
The past should be celebrated, and important and healthy values should be carried over to today, but the past cannot be preserved. Because the context is continually changing, battles to preserve the past exactly as the past is remembered are bad stewardship of time and energy.
Some trophies should just be left on the field.