The Christmas story does not begin in a manger; it begins in a Garden. Genesis 2 ends with Adam and Eve in perfect paradise where they "felt no shame." Then after surrendering to the temptation from the evil one, they immediately feel shame, attempt to cover themselves with fig leaves, and hide from the Lord. The Lord seeks them in their hiding, makes clothes for them with the skins of an animal (the first sacrifice we see in Scripture), and gives the first gospel announcement in a declaration to the enemy.
I will put hostility between you and the woman, and between your offspring and her offspring. He will strike your head, and you will strike his heel. (Genesis 3:15)
Immediately after the first sin there is an announcement of our Savior! God tells Satan that One is coming, born of a woman, who will crush his head. The first declaration of Christmas has been captured artistically in several powerful ways. Grace Remington's painting illustrates the beauty of first Christmas announcement. We see Mary comforting Eve in the midst of her shame because within Mary's womb is the One who will crush Satan's head on our behalf.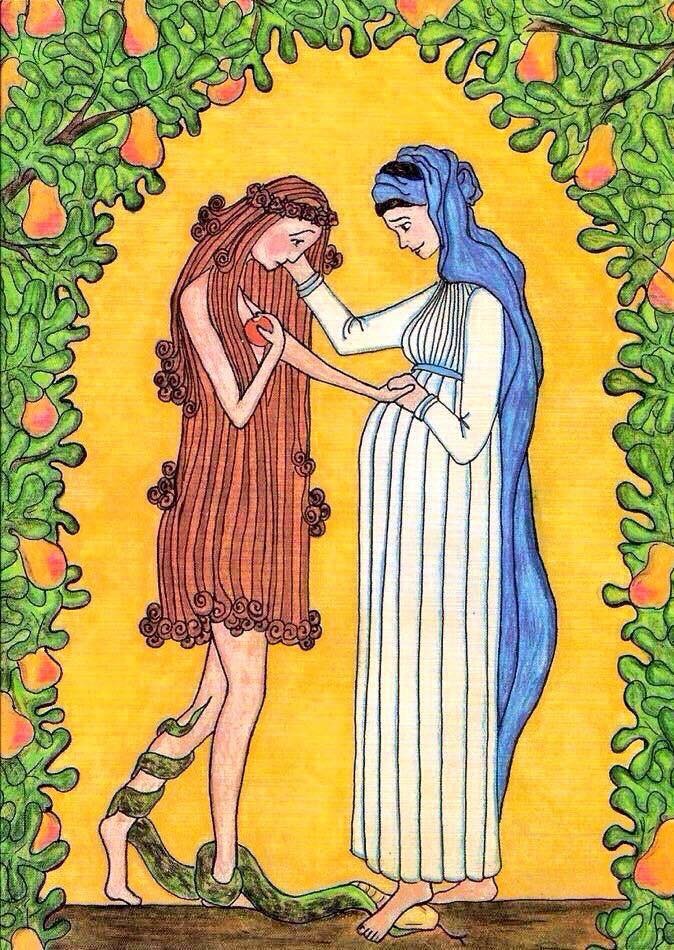 The opening scene of the Passion of the Christ opens in a different garden – The Garden of Gethsemane where Jesus is praying to the Father and is filled with anguish for the upcoming moment when He will bear our sin and shame to rescue us. Unlike Adam and Eve who chose their own way, Jesus commits Himself to the will of the Father. In the scene in the movie, Satan is tempting Jesus and Jesus crushes the head of a serpent — a clear illusion of Genesis 3:15. Jesus will go to the cross to crush our sin and shame!
There are at least three reasons it is important for us to be encouraged that Christmas is announced in Genesis 3 – that the first announcement of Christmas was not when an angel visited Mary. And three reasons us pastors must help the people we serve see that the plan for Christmas did not begin with an announcement to Mary and Joseph.
We are reminded that God keeps His promises.
Knowing that Christmas begins in the Garden is not merely about us mentally knowing some cool facts about the Bible. Knowing that Christmas begins in Genesis 3 reminds us that God always keeps His promises. He may not keep His promises on our timetable, but He can always be trusted. The God who oversaw and planned the details of this grand story is also overseeing the stories of our lives.
We are assured that God is both great and good.
He is so great and powerful that He is able to announce the plan of Christmas and then arrange all the details to beautifully orchestrate the Incarnation. And He is so good that He pursues us and clothes us with His righteousness and forgiveness – just as He pursued Adam and Eve and clothed them.
We see the Bible as one story with Christ as the Hero.
When we read the Bible as a disconnected series of 66 books, we miss seeing His providence over all. Even worse we can mistakenly see Jesus as merely a moral teacher and not as the Announced and Eternal One who has come to do for us what we could never do for ourselves.
"He will strike your head!"
Merry Christmas!